Research
The Miles Dyslexia Centre is actively involved in research of dyslexia and associated disorders. The centre, often in collaboration with researchers from the School of Psychology's Language and Development Group, is interested in research which can lead to improvements in individuals with dyslexia lives, particularly in Wales. Such research includes:
How dyslexia manifests in individuals who know two or more languages (bilinguals).
Understanding the (neuro)cognitive underpinnings of literacy in individuals with and without dyslexia.
The relationships between dyslexia and other learning difficulties that commonly co-occur together.
Improving ways in which we assess and improve literacy and language skills.
Collaborators
Participant Panels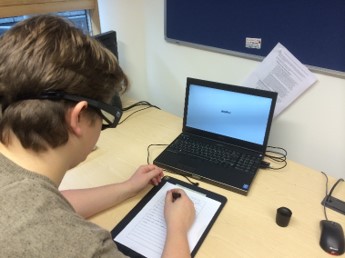 To compliment our research interests and increase our capacity to support research projects. We have developed two participant panels for Bangor University researchers to access. In collaboration with the University's Disability service, we run the Specific Learning Difficulties (SpLD) Panel for Bangor researchers interesting in recruiting students for studies with dyslexia and other learning difficulties (e.g., developmental language disorder, developmental coordination disorder) samples. We also run the Bilingual Panel for Bangor researchers interested in recruiting Welsh-English bilingual adults for studies. To find out more about our participant panels please contact: dyslex-admin@bangor.ac.uk.